Having transformed Saracens' defence into a formidable force, Sanderson had established himself as McCall's right-hand man and the Irishman declared ahead of their third triumph in four years that he was 'the only candidate' to succeed him.
Take a look at Sanderson's CV and he seems to be a man of home comforts, with six of his seven years based at Heywood Road before a season in north London, where he would later coach for 13 years.
He worked with some of the game's brightest minds during his playing career, including Sir Clive Woodward at England and Jim Mallinder and John Mitchell at Sharks.
There was even a sandwich year down under with Eddie Jones, who he followed to Queensland Reds in 2007 following a short first stint with Sarries.
Sanderson's penchant for big personalities was evident this week when Sharks invited legendary football manager Sir Alex Ferguson to attend their Carrington training ground.
But there is no questioning his biggest influence as a coach.
Saturday's Gallagher Premiership Rugby final will not be the first time Sanderson and McCall have come face-to-face this month, with a dinner in honour of the retiring Jackson Wray offering them a chance to exchange pleasantries away from prying eyes.
"At the end of the dinner I was coyly and sheepishly skirting around the subject of finding him after the final," said Sanderson, who left Sarries in January 2021.
"Mark said, 'Al, of course mate, what will be, will be.' His experience of being in my position gives him the wherewithal to know that it's going to be alright.
"I've still got to witness that but he's ten years on from me. We'll have a beer afterwards, whichever way the result goes. We'll be mates after this final regardless.
"I'd like to think that says something about the game in general, or at least where it's going."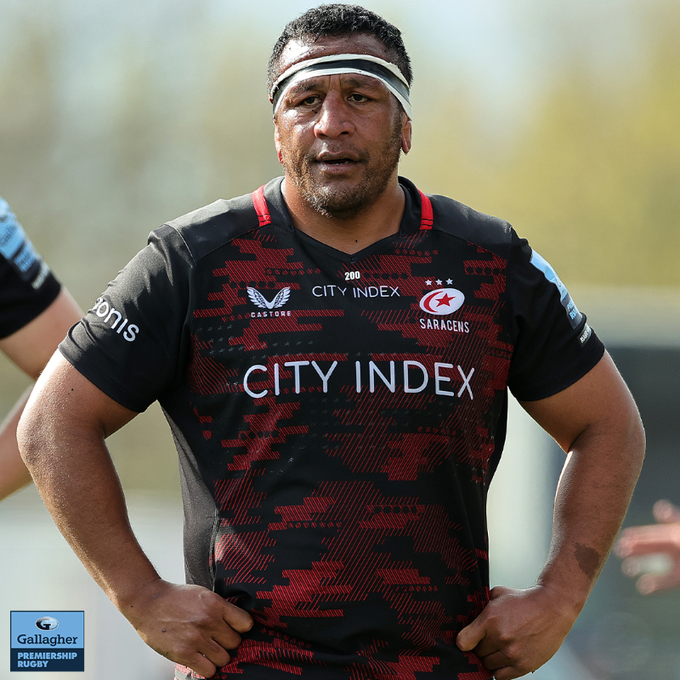 Saracens are arguably still mourning the loss of their former defensive guru, having conceded more points in their three top-flight seasons since Sanderson's departure than in the three previous campaigns prior.
But McCall, for the most part, has had the run of things in their head-to-heads so far, with Sarries running out winners on three occasions before Sanderson tasted victory over his old boss for the first time in March.
They meet again this weekend with a little more at stake, and for both directors of rugby it will be a particularly poignant occasion.
"It's special because I'm happy for them that they've proven over this year the sustenance, the foundation of the organisation which I was proud of and proud to be a part of, was built for the right reasons," said Sanderson.
"They are back there again so I'm really happy they've been able to keep that squad together and find form.
"They are a different team to what they were three years ago.
"I still have a deep affection for them and dare I say it love for some of them, it's that that spurs me on to win more.
"While I hope for the best for them, the people you love are the ones you want to beat the most."
Sharks and Sarries have unquestionably been a cut above the rest this season but there is one thing the latter has which their opponents do not just yet – experience of doing it when it matters.
Sanderson embraces the emotionality of his side but it has boiled over on occasion and he confessed recently his desperation to make the final two years ago.
After slipping to sixth last term, it seemed that semi-final showing might have been a false down.
But those who know Sanderson best could see the Sharks revolution coming and knew he was the man for the big occasion.
Speaking ahead of the domestic showpiece, Saracens hooker Jamie George said: "Al is one of the best coaches I've worked with.
"He's an amazing man and character. From my time and experience with him he takes the lead in the biggest games – like the European final here.
"I know he'll be getting their guys in the right frame of mind for Saturday. They've been great all year.
"They're a big, physical team and then you put the little master George Ford in the mix, he makes them a different team entirely.
"They are a really, really tough team and it's a tough test we're coming up against."
On the field, the apprentice has had a few jabs at his old master and, riding the crest of a northern wave, will feel there is no better time to end Sharks' 17-year wait for a league triumph.
But come full time and away from prying pitch side eyes, their friendship will no doubt be restored with a handshake, a raise of a glass and a shared appreciation of what they have achieved as a team and as individuals.
via PremiershipRugby.com