Currie Cup Semi-Final Preview
The Lions and Griquas will face off in the first Currie Cup semi-final at Ellis Park in Johannesburg on Saturday before the Free State Cheetahs host the Sharks in Bloemfontein soon afterwards as four teams battle it out for a chance to feature in the Currie Cup Final.
A victory for the Cheetahs would see them host the final on 7 September, as they finished the pool stages as the top of the log but defeat could see either the Golden Lions or Griquas secure a home final.
The Griquas will be chasing their first final in almost 50 years having last made the final in 1970, a match that saw them beat the Blue Bulls (then known as Northern Transvaal) 11-9.
Griquas v Lions
The Golden Lions named an identical match-day squad to last week for the clash, while Griquas made three personnel changes.
The Griquas have been a surprise package in the competition having built on a championship Super Rugby Challenge Cup campaign and will want to send outgoing head coach Brent janse van Rensburg out on a high
Wandisile Simelane and Tyrone Green have been standouts for the Lions this campaign and could decide the encounter if they are on form this weekend.
Meanwhile, Griquas captain George Whitehead has led his side superbly and will key to their hopes of securing a final spot.
Last time they met:
Just last weekend, the Lions edged the Griquas 27-26 thanks to a clutch penalty kick from Shaun Reynolds.
Line ups: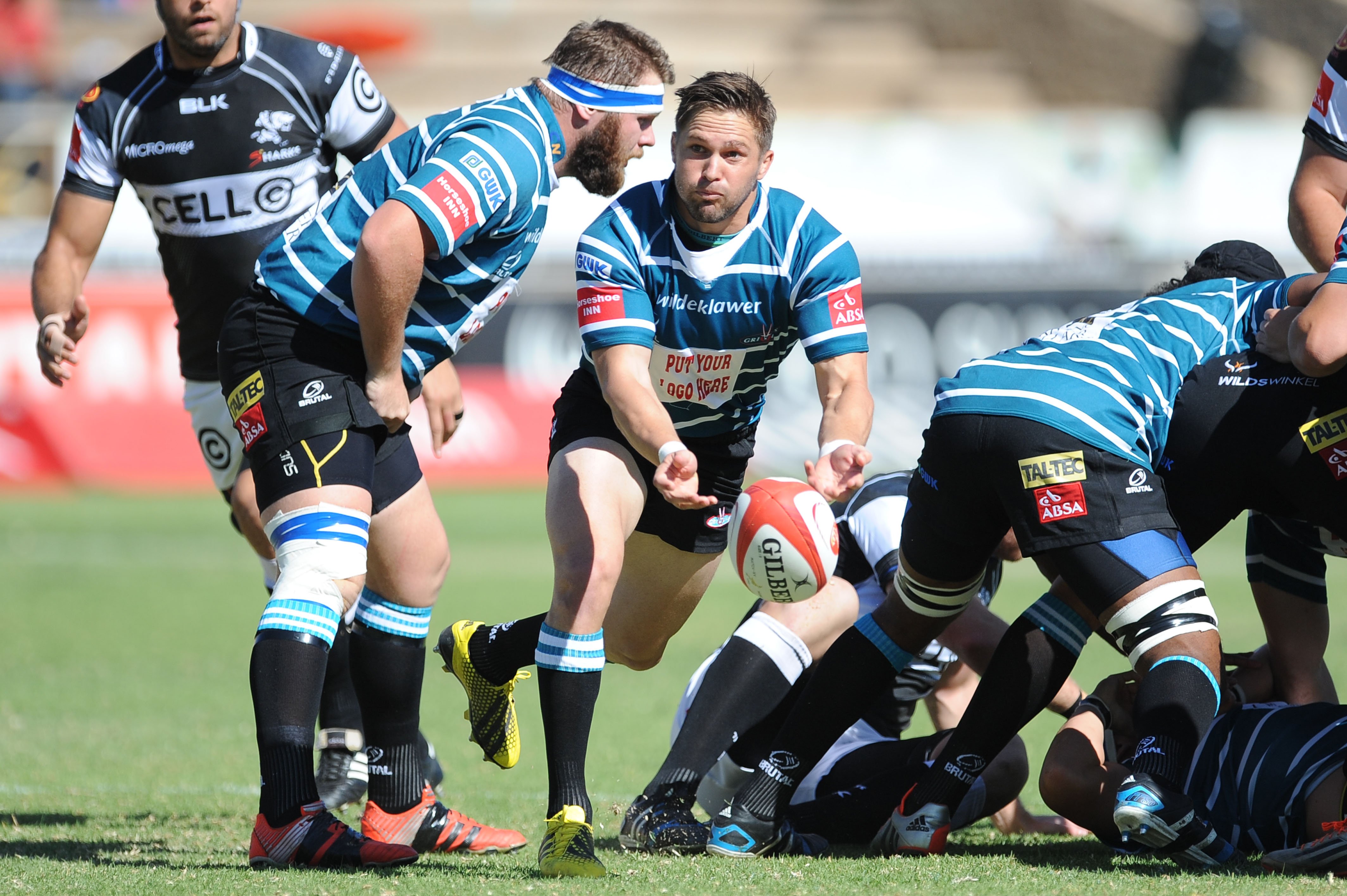 Lions – 15 Tyrone Green, 14 Madosh Tambwe, 13 Wandisile Simelane, 12 Duncan Matthews, 11 Stean Pienaar, 10 Shaun Reynolds, 9 Ross Cronje (capt), 8 Hacjivah Dayimani, 7 Cyle Brink, 6 Marnus Schoeman, 5 Marvin Orie, 4 Ruben Schoeman, 3 Jacobie Adriaanse, 2 Pieter Jansen, 1 Sti Sithole. Replacements: 16 Jan-Henning Campher, 17 Dylan Smith, 18 Johannes Jonker, 19 Wilhelm van der Sluys, 20 Len Massyn, 21 Dillon Smit, 22 Jan-Louis la Grange, 23 Jamba Ulengo.
Griquas – 15 Anthony Volmink, 14 Ederies Arendse, 13 Michal Haznar, 12 Andre Swarts, 11 Eduan Keyter, 10 George Whitehead (captain), 9 Christiaan Meyer, 8 Zandre Jordaan, 7 Sias Koen, 6 Gideon van der Merwe, 5 Victor Sekekete, 4 Ian Groenewald, 3 Ewald van der Westhuizen, 2 AJ Le Roux, 1 Khwezi Mona. Replacements: 16 Wilmar Arnoldi, 17 Mox Mxoli, 18 Johan Momsen, 19 Neill Jordaan, 20 Chriswill September, 21 Chris Smit, 22 Bjorn Basson, 23 Ruan Kramer.
Sharks v Cheetahs
This should be a titanic clash with the two sides producing outstanding games in past competitions.
The Durban faithful will get the chance to see Ox Nche up close in this clash with the burling loosehead rumoured to have signed with Super Rugby franchise.
The Cheetahs will look to continue their preparations for the upcoming PRO14 season and will bank on Ruan Pienaar to steady the ship and get his exciting backline into space.
The Sharks have received a timely 'Bok boost' last weekend and they have carried that into this game with Thomas du Toit and Andre Esterhuizen named in the starting line up and are joined by other Springboks in Lwazi Mvovo, Curwin Bosch, Coenie Oosthuizen and JP Pietersen.
The youngsters included in the Sharks team have helped them reach the semi-finals and they could be the reason they reach the final. Keep an eye out for Sanele Nohamba, Aphelele Fassi and Phepsi Buthelezi.
Last time they met:
Kobus van Wyk's try decided a tightly fought encounter between these two sides last time out with Sharks claiming a 27-20 victory.
Line Ups:
Free State Cheetahs – 15 Clayton Blommetjies, 14 William Small-Smith, 13 Benhard Janse van Rensburg, 12 Dries Swanepoel, 11 Tian Meyer (capt), 10 Tian Schoeman, 9 Ruan Pienaar, 8 Henco Venter, 7 Abongile Nonkontwana, 6 Junior Pokomela, 5 Walt Steenkamp, 4 Sintu Manjesi, 3 Erich de Jager, 2 Joseph Dweba, 1 Ox Nche. Replacements: 16 Jacques du Toit, 17 Schalk van der Merwe, 18 Reinach Venter, 19 JP du Preez, 20 Gerhard Olivier, 21 Jasper Wiese, 22 Louis Fouche, 23 Darren Adonis.
Sharks – 15 Aphelele Fassi, 14 Kobus van Wyk, 13 Jeremy Ward (co-captain), 12 Andre Esterhuizen, 11 Lwazi Mvovo, 10 Curwin Bosch, 9 Sanele Nohamba, 8 Tera Mtembu (co-captain), 7 Jacques Vermeulen, 6 Phepsi Buthelezi, 5 Hyron Andrews, 4 Ruben van Heerden, 3 Coenie Oosthuizen, 2 Kerron van Vuuren, 1 Thomas du Toit. Replacements: 16 Dylan Richardson, 17 Mzamo Majola, 18 John-Hubert Meyer, 19 Gideon Koegelenberg, 20 Andisa Ntsila, 21 Cameron Wright, 22 Rhyno Smith, 23 JP Pietersen.