Top 6 Players - Crusaders v Brumbies
It was a nail-biter but the Crusaders took the win by a mere two points at the end. Here are the top performers from the match:
David Havili - Crusaders:
The man who scored an awesome intercept try for the Crusaders. He played an integral part in the Crusaders attacks and made their advancements down the field more powerful and clinical. NOt only did he make sure to put some points on the board but his power and strength helped in getting the Crusaders that slight advantage.
Metres: 56
Carries: 7
Passes: 9
Tackles: 9
Tom Banks - Brumbies:
The man with the most metres for the entire match, a total of 106. Banks plays such an important role in the Brumbies lineup and he continues to prove why. Banks made some awesome runs but also didn't falter when it came down to defending. Banks was put into a few positions where he was needed to halt the Crusaders attack and he delivered.
Carries: 8
Defenders Beaten: 6
Offloads: 1
Tackles: 3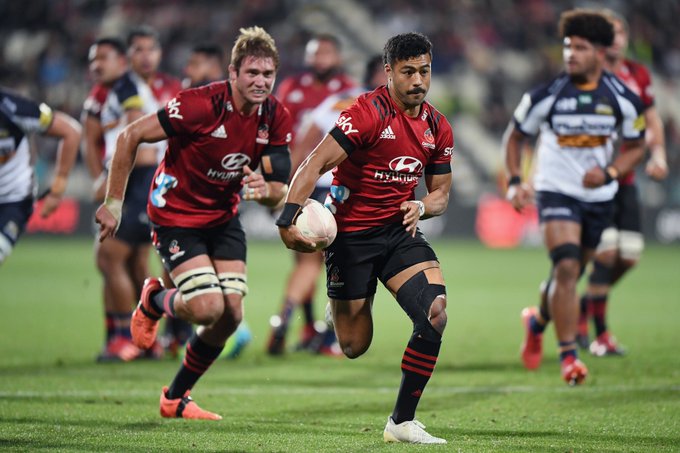 Richie Mo'unga - Crusaders:
Possibly the man of the match, Mo'unga was almost faultless in his performance. Mo'unga himself got a try on the board and left the Brumbies spinning on their feet. Providing strong attacks in rather tricky situations, Mo'unga created opportunities that would otherwise have proven to be impossible.
Metres: 31
Defenders Beaten: 6
Passes: 32
Points: 11
Rob Valetini - Brumbies
Valetini had one of his best performances of recent times against the Crusaders. He showed some serious running prowess as he made 15 carries, adding up to a total of 51 metres, quite the achievement for a forward, even if he is a loosey. What helped the Brumbies was both his ability to run and his strength. He was able to power over the line in the corner for the Brumbies in the dying minutes of the match.
Tackles: 6
Points: 5
Ethan Blackadder - Crusaders:
He actually went over the line twice, but with one foot out for touch in the second run up, the decision was no try. It wasn't the amount of tries that Blackadder scored (or didn't) but rather the manner in which he was able to get to the try line. Making two awesome runs on the wing saw him in a good position to stretch his arm over the line. It was this accuracy and vision that allowed him to fire on all cylinders!
Metres: 53
Carries: 6
Defenders Beaten: 4
Tackles: 12
Scott Sio - Brumbies:
The man who got the Brumbies their first points of the match, Scott Sio played the role of a prop as well as an agile back. Making a solid 21 metres over 6 carries, he proved intregral in the Brumbies' fight in the first half. Not only did he make some powerful runs but he also spotted a gap that allowed him to make a clean break!
Defenders Beaten: 2
Points: 5
Tackles: 6
Turnovers won: 1