Hooker Johnny Matthews is a perfectly able deputy for Scotland – John Dalziel
John Dalziel is adamant new recruit Johnny Matthews will prove a perfectly able deputy after Scotland's World Cup hooker curse continued with the departure of Stuart McInally from the squad.
It was announced on Sunday night – after the bonus-point 45-17 win over Tonga in Nice – that the 33-year-old Edinburgh forward was heading home from the tournament with a neck problem less than a fortnight after being called up when Dave Cherry departed the camp due to a concussion sustained when falling on stairs at the team hotel.
In addition to the travails of McInally and Cherry, Ewan Ashman was unable to be involved against South Africa after getting concussed in the build-up, while Fraser Brown – who was on the bench for four of the Six Nations games earlier this year – would almost certainly have come into contention if not for the ACL injury he suffered at the end of last season.
First-choice George Turner is the only hooker who has stayed injury-free throughout the World Cup training camp and tournament itself, meaning coaches have had to draw on their depth of options for the specialised position.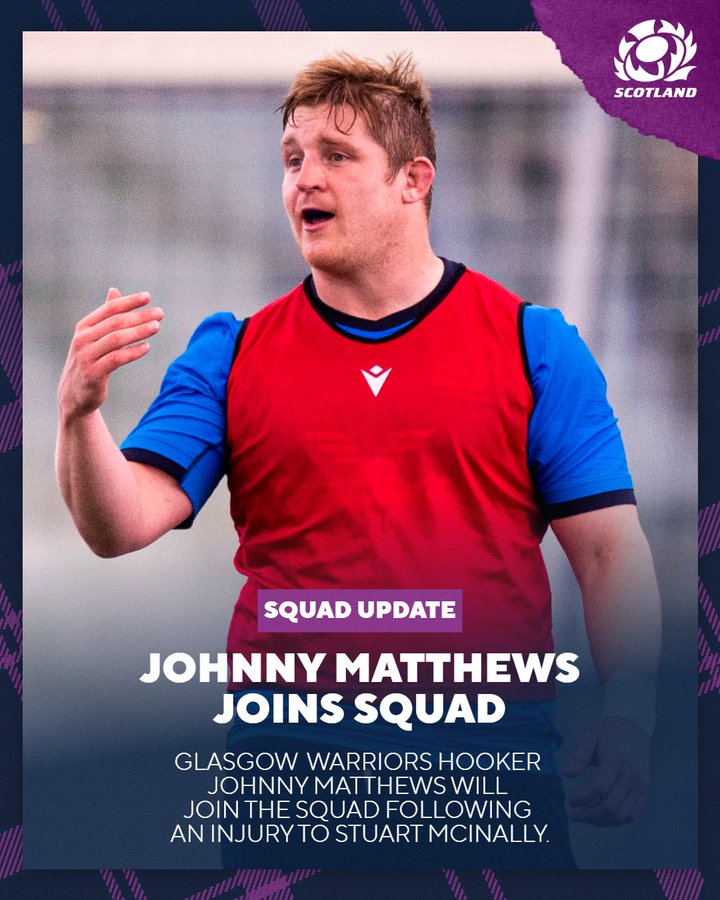 "When we were picking the hookers initially, there were a lot of names in consideration," said forwards coach Dalziel on Monday afternoon. "We were unlucky to lose Fraser Brown to injury prior to the tournament.
"We've never really had a campaign where we don't use four hookers plus, it's a position that's right in the firing line, there's a lot of injuries that come with it because of the scrummage and set-piece requirements.
"There's been a bit of change there, with Rambo (McInally) disappointed to miss out (on the initial 33-man squad) and then he got a lifeline and thought it was going to happen for him.
"He added a huge amount while he was with us but it's unfortunate that he's got to go home again.
"It's been a bit of a merry-go-round for Rambo and we're disappointed to see him go."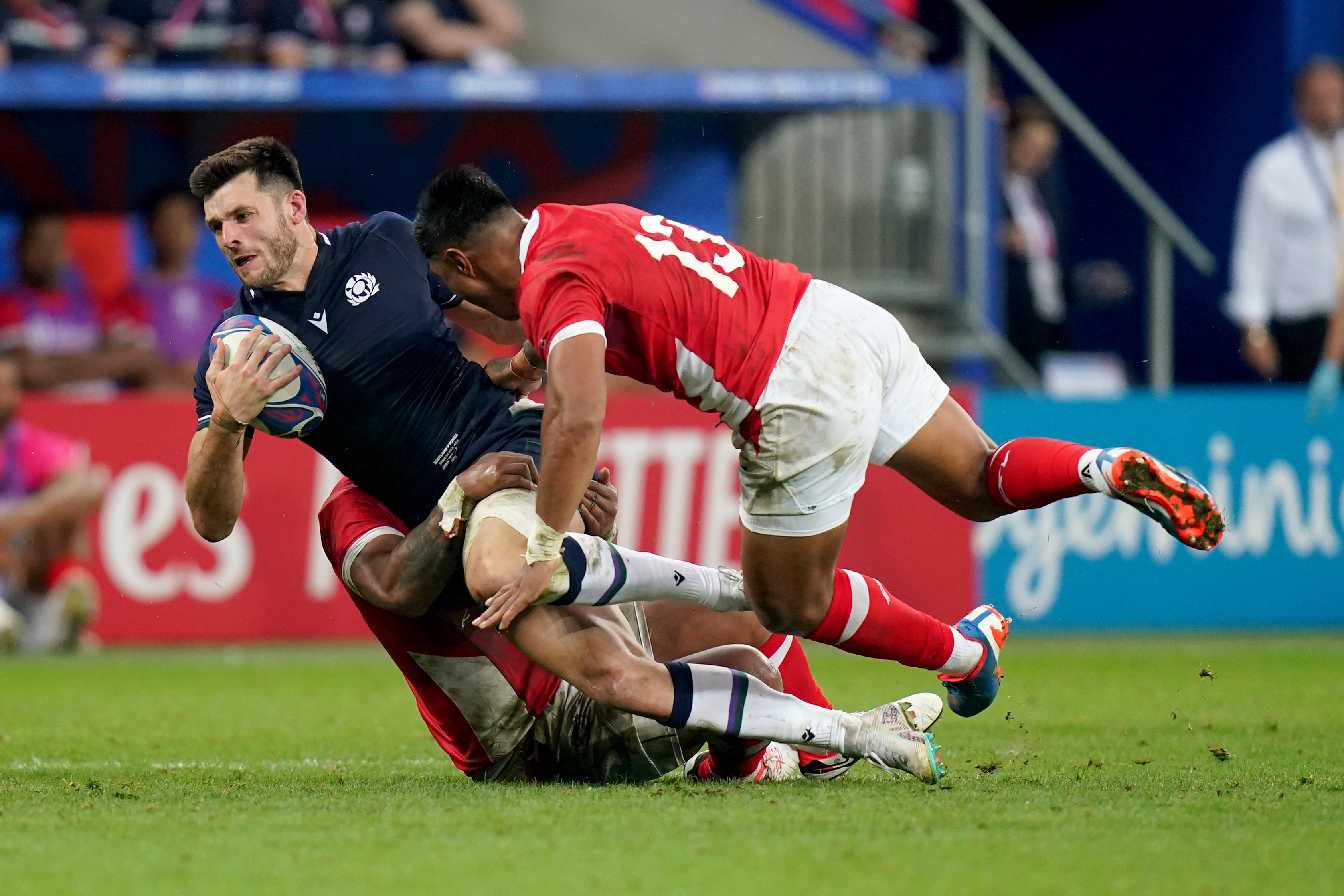 Matthews' only previous outing with the national team came for Scotland A against Chile in June 2022. The Liverpool-born 30-year-old – whose mother was born in Glasgow – would effectively have been sixth in the pecking order if all other options were fit.
But after flying in to join up with the squad in Nice over the weekend, he now finds himself up to third behind Turner and Ashman and in contention to win his first full cap in Saturday's World Cup pool match against Romania in Lille.
"It's a huge opportunity for Johnny, who was another one in great form for Glasgow last season and was unfortunate to miss out on selection," said Dalziel.
"We all know the speed and physicality Johnny brings, it's probably his point of difference. Glasgow had an extended off-season but they were working hard away from it and they've been back in for pre-season.
"By all accounts, he's been training really well. As a hooker, a specialised position, he's always working on his craft anyway so he's arrived in good condition and he'll be a good addition to the group."
Dalziel also reported that Jamie Ritchie suffered no ill effects overnight following the dangerous high tackle he was on the receiving end of from Tonga wing Afusipa Taumoepeau.
The Scotland captain was forced off in the first half off after taking a bang to the head and is now in his 12-day concussion stand-down period, meaning he will miss the Romania game and only be allowed to return to training on the eve of the potentially-critical match against Ireland in Paris on Saturday week.
"It was pretty nasty in terms of the head collision but in terms of after that and post-game, he's been OK," said Dalziel. "He's not had any dramatic extra symptoms with it.
"You've got to take full care with anything to do with the head so he'll just be managed along with the protocols. He's up and about and his family are here so he'll get a day off to chill."
Dalziel was pleased to see the rest of the squad come through a bruising encounter intact.
"There are a couple of sore bodies this morning, it was a pretty physical game – as we knew it would be – but it's miraculous how everybody rocks up and looks fine today and gets food into them," he said.
"Credit to the conditioners as well, the boys were all in the pool nice and early doing their recovery. Apart from a couple of bumps and bruises, the majority of the group are OK and good to go."
Sunday's match was Scotland's first for a full fortnight after their opener against the Springboks and Dalziel was delighted to see them return to action with a seven-try victory to get their tournament up and running.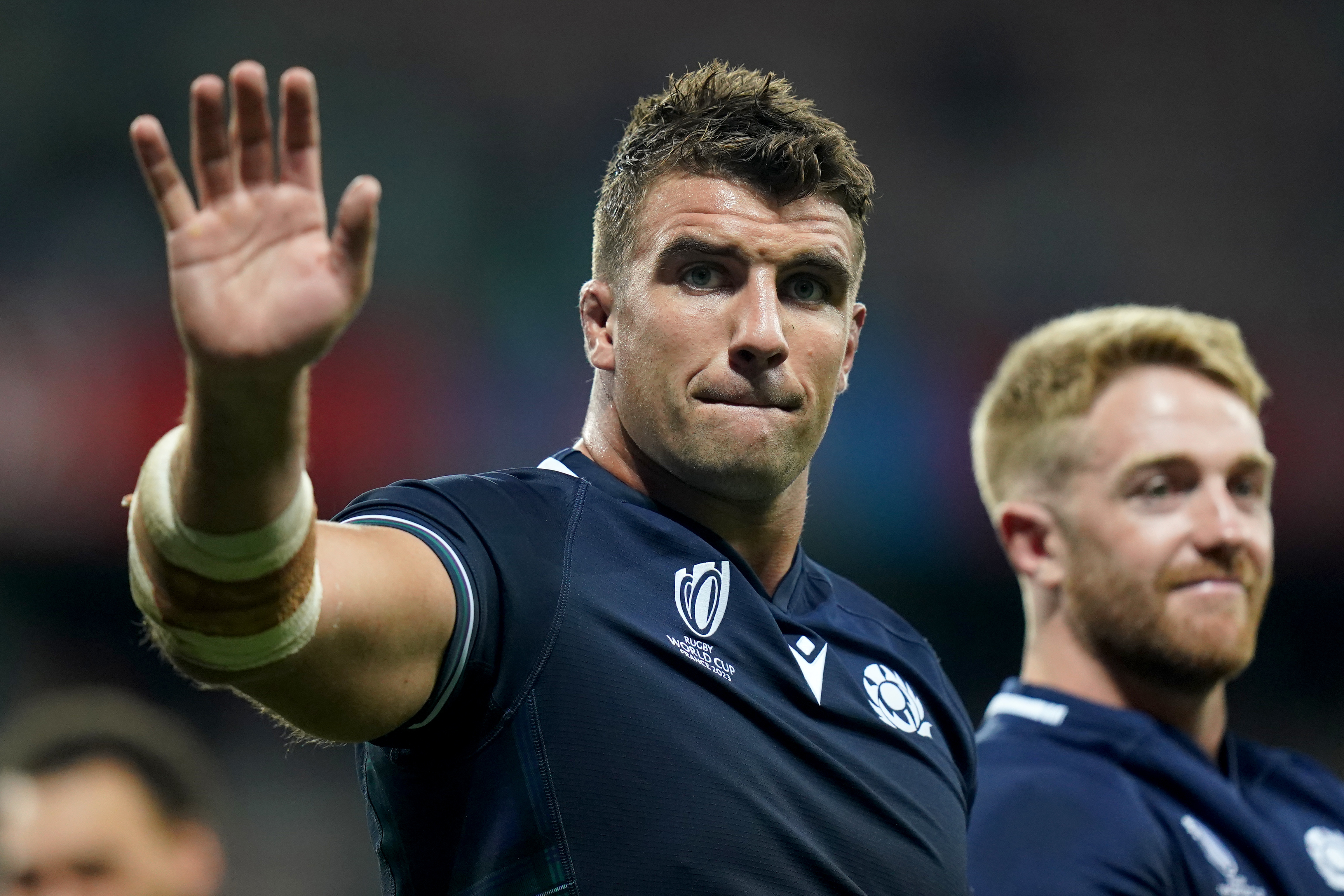 "It's been a really weird World Cup for us," he said. "That first week seemed very busy and hectic. We felt a huge part of it building up to the first game against South Africa and then there was a real lull after that.
"Two weeks of just training and having the appropriate time off so we didn't feel we were really part of the tournament, to be honest.
"You have to sit on those bad memories (against South Africa) and you're just desperate to get back out there again so it was brilliant to get back out there and score some points and get that bonus point and get back on track."