How things stand after Round 5 of Super Rugby Aotearoa
The Crusaders showed their quality in their top-of-the-table clash against the Blues in Christchurch on Saturday to ascend to the top of the overall standings with a total of 18 points after 4 matches. The two sides put on a great display of rugby with bruising defence and sublime skill, but it was the men in red, grateful for their home-ground advantage, who prevailed in the end 26-15.
The Hurricanes enjoyed their second victory of the tournament when they downed the Highlanders in Wellington 17-11. The 'Canes were made to work hard for their victory, however, as the Highlanders sprang to life in the second half, giving themselves a chance to snatch victory at the death, however, the 'Canes stranglehold on the men from Dunedin proved too strong in the end.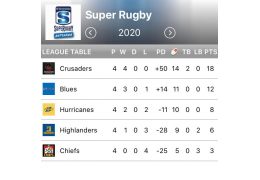 Round 6 will see the Blues looking to bounce back from their first defeat of the competition when they meet the Hurricanes for the second time since the opening fixture while the struggling Chiefs, still winless, will host the Highlanders.
It looks like the Crusaders will take some beating as they charge into the second half of the tournament with the Blues looking like the only team that might offer a serious challenge, however, New Zealand sides are known for their ability to bounce back from adversity and a change of fortune for the Chiefs, Highlanders and Hurricanes is by no means impossible.